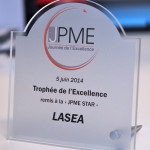 Day of Excellence for SMEs
The 8th Day of Excellence for SMEs was held June 5, 2014 at the Cercle du Lac in Louvain-la-Neuve. Theme of the day: SMEs, the key to the future.
JPME, the annual convention of leaders and managers of SMEs Wallonia-Brussels awards each year the best ideas, initiatives and solutions for SME success.
Five enterprising SMEs are also selected because they have managed a project of excellence, initiative, an investment that has fostered their profitable growth. Among these, LASEA.